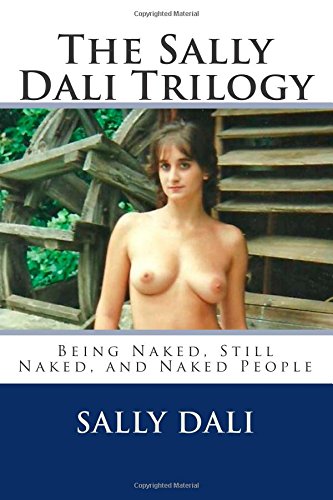 Avant de rentrer dans le détails des trois tomes formant cette trilogie, je veux juste dire que j'ai adoré ce livre. Je l'ai dévoré en une journée. Le sujet, le rapport de l'auteur au naturisme et son expérience de naturiste qui vit sa passion au quotidien, est bien traité, le récit vous tient en haleine, vous fait souvent sourire, et l'écriture est agréable. Je vous encourage donc que vous soyez ou non naturiste, et si vous lisez l'anglais, de vous précipiter sur ces trois tomes, ode à ce style de vie magnifique qu'est le naturisme.
Ces trois livres se suivent et il est préférable de les lire dans l'ordre. Ils révèlent toute la psychologie de l'auteur et surtout décrivent en détail son bonheur de vivre nue et de ce besoin, parfois étrange, que ressentent les naturistes à se mettre nus. Elle aborde le naturisme sans complexe, ne tombe pas dans l'angélisme, consistant à dissocier naturisme et sexualité, mais traite frontalement du côté visuellement agréable d'un corps nu. Si vous êtes naturistes, vous vous retrouverez certainement dans ses lignes, et si vous ne l'êtes pas, vous découvrirez une terra incognita insoupçonnée de respect et de bien-être. Je vous souhaite bonne lecture, nu comme il se doit !
Tome 1 : Being Naked – Être nue
Dans le premier tome de cette trilogie, Sally explique comment elle a découvert le naturisme et comment il s'est imposé comme une nécessité dans sa vie. Elle insiste particulièrement dans son rapport à la nature, comme par exemple, quand elle emmène son cheval au pré, dans le plus simple appareil, ou qu'elle va se promener nue dans la campagne environnante.
Elle décrit aussi comment elle vie son naturisme au quotidien, y compris avec ses ami(e) naturistes ou non, sa sœur et son beau-frère, et comment elle organise des soirées naturistes. Son séjour à Vera Playa, en Espagne, lui fait découvrir le bonheur de la nudité pour faire toutes ses activités, y compris faire ses courses ou aller au restaurant. Elle explique également le bonheur ressenti par le partage de la nudité, activité sociale par excellence.
Sally m'a fait sourire en rappellant qu'elle était une femme, et qu'à ce titre, comme beaucoup de ses consoeurs, elle adore les vêtements. Ce qui n'est aucunement incompatible avec le bonheur d'être nue. Elle introduit aussi sa relation avec Fleur, une ballerine qui dance nue et qui restera une de ses amantes.
Après avoir partagé quelques-unes de ses expériences naturistes en Angleterre, France et Espagne, elle découvre Montalivet et prend la décision d'y retourner pour y vivre, nue à l'année. Le livre se termine sur son installation à Montalivet avec son ami Bryan avec qui elle partagera quelques années durant une maison et pourra assumer pleinement son bonheur de vivre nue.
Tome 2 : Still naked – Toujours nue
Dans le second tome, Sally continue à décrire sa vie à Montalivet, ses nombreuses expérience de nudité totale et sa vie sentimentale, dont un long passage avec Fleur, tant en Angleterre qu'en France. Fleur met cependant le doigt sur la possible lassitude que Sally pourrait ressentir de vivre dans un environnement naturiste clos. Et c'est Bryan qui se décide à quitter Montalivet pour la Californie.
Sally se retrouve face à un dilemme : que faire de la maison ? Cet intermède introduit une histoire croustillante (je ne vais pas tout vous dévoiler) avant de se terminer sur une colocation avec une Française un peu collet-monté. L'épisode du choix du colocataire est le prétexte à quelques histoires avec de "faux" naturistes.
La colocation se révèle intéressante car prompte à des réflexions sur le naturisme et le respect mutuel textile-nudiste. J'aime particulièrement cette phrase située vers la fin alors qu'elle revient sur son bonheur d'être nue : "le naturisme est une expérience à partager". Cela donne un bon aperçu de l'esprit du livre. Ce tome se termine sur ce sentiment partagé par tous les naturistes et que je ressens pleinement alors que j'écris ce billet (nu comme il se doit) : "J'aime être nue."
Tome 3 : Naked in winter – Nue en hiver
Le troisième et dernier tome traite de la relation entre nudisme et froid. En effet, dans des pays comme la France ou l'Angleterre, l'hiver n'est pas propice à la nudité. Ceci étant, elle commence par regarder le confort d'être nu bien au chaud, voire de profiter des belles journées d'hiver pour profiter de la neige et du soleil.
Elle passe aussi en revue les activités nudistes organisées, comme les ouvertures de musées aux naturistes. Puis vagabonde dans la littérature naturiste, orientée plus sexuelle que naturiste, et décrit le mélange naturiste=textile, particulièrement quand une seule personne est nue. Enfin, elle s'attarde sur la nudité en tant qu'outil de revendication, comme par exemple les Femen. Comme elle le dit : "Je réfléchis beaucoup en hiver et mes pensées partent en tout sens". Nue en hiver, elle nous confie ses pensées.
Elle passe de la France à l'Angleterre, de sa vie avec sa colocataire à ses relations avec Fleur, puis s'interroge sur ce besoin d'être nue, y compris en hiver, avant de nous emmener dans son histoire d'amour avec Cressida, puis de terminer sur le besoin d'entretenir son corps pour vivre nue encore longtemps !
Conclusion
Il est dommage que ces ouvrages n'existent pas en français. J'en profite donc pour faire un appel à Sally, si elle passe par cette page au gré de ses pérégrinations sur le web: je serais enchanté de traduire ce livre en français pour que le public francophone en profite, contactez-moi si vous êtes intéressé.
Naturistement vôtre !
The English version of this post is available here.